Questions & Answers...
...concerning payment and shipping:
If I don't have a PayPal account, can you accept other methods of payment?
Yes indeed. When you add an item to your shopping cart, the PayPal payment gateway will automatically open in a new window. From this page, you can still proceed to 'Check Out' and complete your order even if you do not have a PayPal account. Just click the 'Check Out' button on the left (as shown below) to complete your transaction by using your credit card.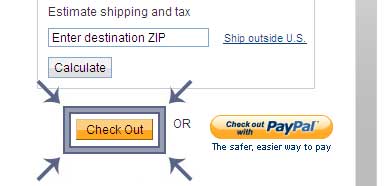 PayPal is a safe and secure payment gateway and is trusted and used worldwide, but should you have any difficulty navigating through PayPal's payment steps, please contact us so that we may help resolve any issues.
How long will it take to process and ship my order?
Orders are generally shipped within 1-2 business days after customer payment clears.
Do you ship internationally?
Absolutely! Our sperels are eager to fly worldwide to reach any and all of their far away fans. That being said, please understand that due to the higher cost of international post, there is a small chance we may contact you for adjusted shipping fees in the event that your order weighs more than our shipping calculator could accommodate for. If you would like to request any special shipping services, please contact us before making your order.
...concerning sperel adoption and responsible ownership:
Is it safe to leave my child alone with a sperel?
Sperels are a very amiable and good natured species, and they will get along well with anyone.
However
sperels should not be left unmonitored with children who are still of teething age, as the sperel's little arms and delicate wings may present a choking hazard. After so many years of enduring the traumas of their servitude, the last thing any sperel wants to do is cause trauma in their new home, so please use best judgement before assigning your sperel the role of 'babysitter'.
...concerning Sperel Apparel:
What is the right t-shirt size for me?
You can refer to the sizing charts below to help you determine which t-shirt size will fit you best.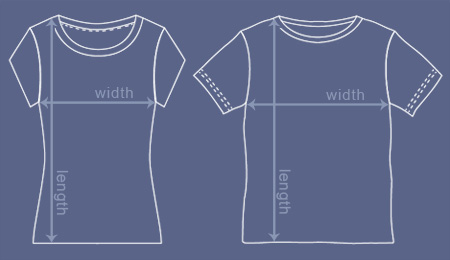 Width is measured just below lower seam of the sleeves.
Length is measured from high point of the collar to the bottom hem.
Ladies Sizing Chart
| | | | | |
| --- | --- | --- | --- | --- |
| | S | M | L | XL |
| Width | 15" | 15.75" | 16.5" | 17.5" |
| Length | 25" | 26.5" | 28" | 28.5" |
Guys Sizing Chart
| | | | | |
| --- | --- | --- | --- | --- |
| | S | M | L | XL |
| Width | 18" | 20" | 22" | 24" |
| Length | 27" | 27.5" | 29" | 30" |
It may also help to grab one of your favorite fitting t-shirts from your closet, measure its width and length, and then compare its measurements against those on our sizing chart. Keep in mind that our t-shirts are 100% cotton, so they might shrink a little after washing.
How should I care for my t-shirt?
General tips for maximizing a t-shirt's longevity include:
Wash your shirts inside-out in cold water and dry on 'low', or line dry outside. If you need to iron a shirt, don't iron the decorated areas. When hanging a crew neck t-shirt, slip the clothes hanger up through the shirt's bottom to avoid stretching out the neck, and if you notice that your shirts are getting disfigured at the shoulders, try upgrading from that thin wire hanger to a better designed clothes hanger, or fold your shirts and keep them in a dresser drawer instead.
If you still have a question that wasn't answered here, please send us an email through the
contact form
, and we will get back to you as soon as possible. Saving sperels keeps us pretty busy day to day, so please allow a day or two for us to respond to your message.