Yesterday we introduced our Sakura-Con Artist Alley friends through some of the artwork and products that they were selling at the anime fest last weekend. Today, we share photos of some of the cosplayer characters who visited our table to meet the sperels!
For those who weren't there to see us first hand, we had the foresight to snap a photo of our vendor table setup before the convention doors opened and all the craziness began. The week prior to Sakura-Con, we put some significant thought into creating a display that would make optimal use of our table surface while complimenting the sperel's cutest characteristics. Perhaps the sperels themselves deserve all the credit for attracting so many new friends and fans to their table, but we like to think that our table presentation had some part in the sperel's Sakura-Con success as well!


One of the final additions to our table display was the printout of our $5 off deal for any cosplayers with wings. The sperels love new adventures of all types, but they were especially happy whenever another winged character would stop by and choose one of them as their new flying companion. Unfortunately, we were somewhat neglectful of our photo duties on Friday, but as the weekend warmed up, we made up for Friday's missed photo opportunities by taking lots of pictures on Saturday and Sunday! Here are some of the sperel's newest friends from their Seattle adventure:
Cooro was searching the convention for other +Anima and arrived to our table alerted by the sensation that a +Anima sperel was hiding in our midst.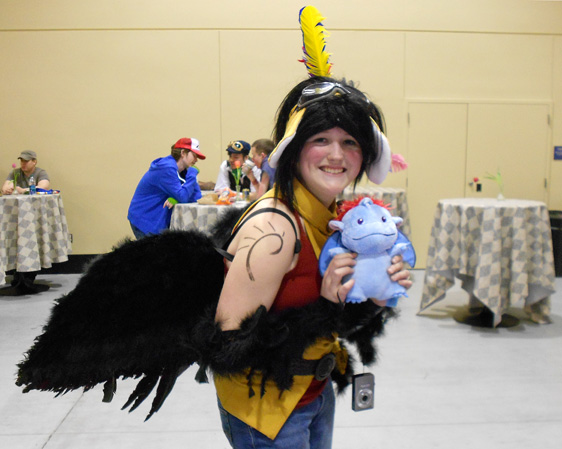 Similarly convinced of the sperel's mystical nature, this woodland faerie decided that a sperel was needed back home in her enchanted forest where she promised it would forever enjoy exploring a land of pure wonder.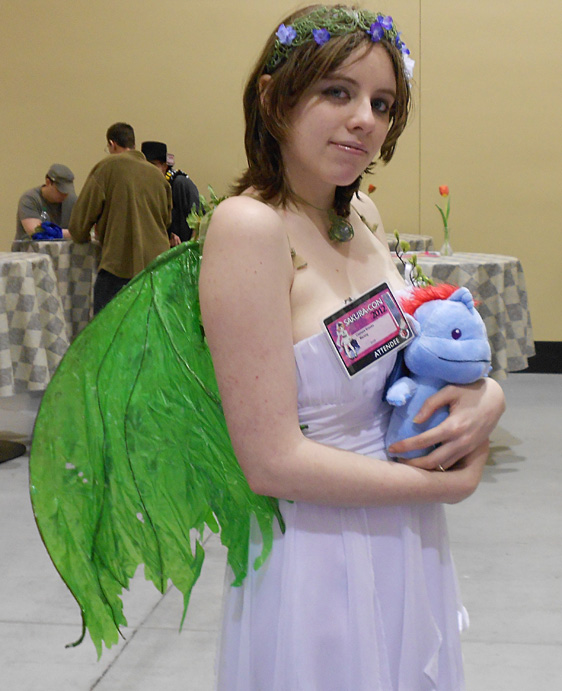 Morrigan and Lilith took a sperel as their new Darkstalker mascot, and though the sperel left feeling a bit nervous about having to watch its new friends battle enemies all the time, there can be no doubt that this sperel will be well protected under their watch.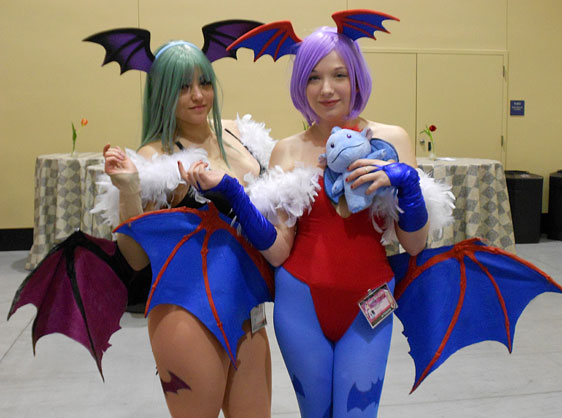 Not everyone who stopped by our table was interested in hearing about the sperel's backstory, and the Umbrella Corporation had actually deployed a very mission-oriented Containment Force into the convention halls to eliminate suspected carriers of what they called the 'T-Virus'.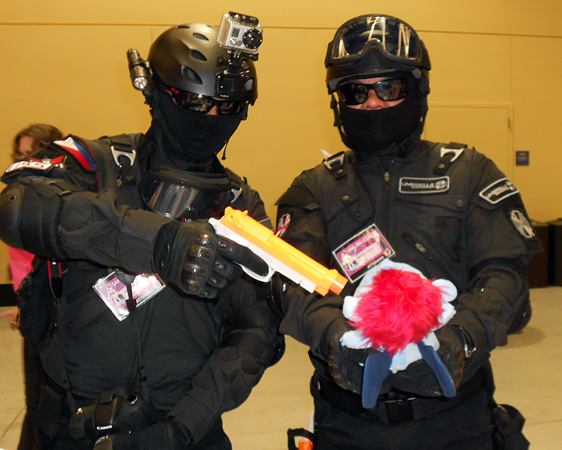 Luckily, an 'infected' came by and disposed of the soldiers before they were able to harm the sperel. Not wanting the sperels to be Left 4 Dead, this Hunter took two of them along to add a little bit of cheer into his apocalyptic days.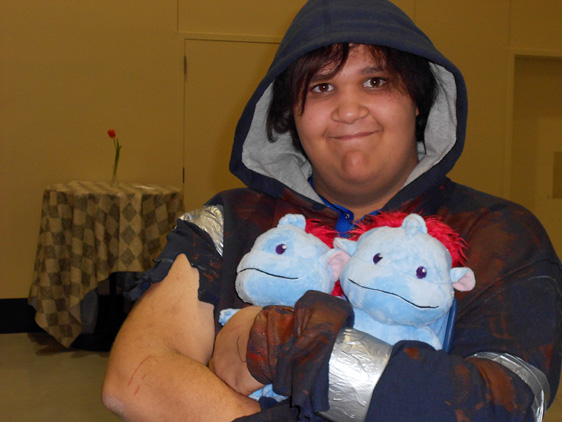 Some of the folks who visited our table implemented some rather interesting tactics in their efforts to 'save a sperel'. Pokémon Trainer Ash hoped he might win a sperel in a Poké Battle as he set loose his Pikachu on our table!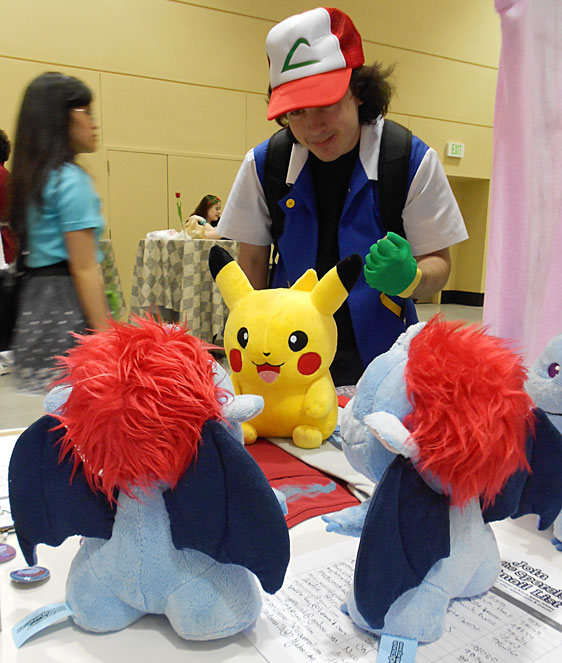 In this instance, the sperels were able to avert catastophre by flocking together and convincing Pikachu that they weren't interested in fighting.
But moments later, we received a visit from this girl who had seen us the previous day, saying she would return sometime later with wings to improve her sperel-saving suitability. As can be seen, instead of wings she came with a net, revealing her true identity as a member of Team Rocket!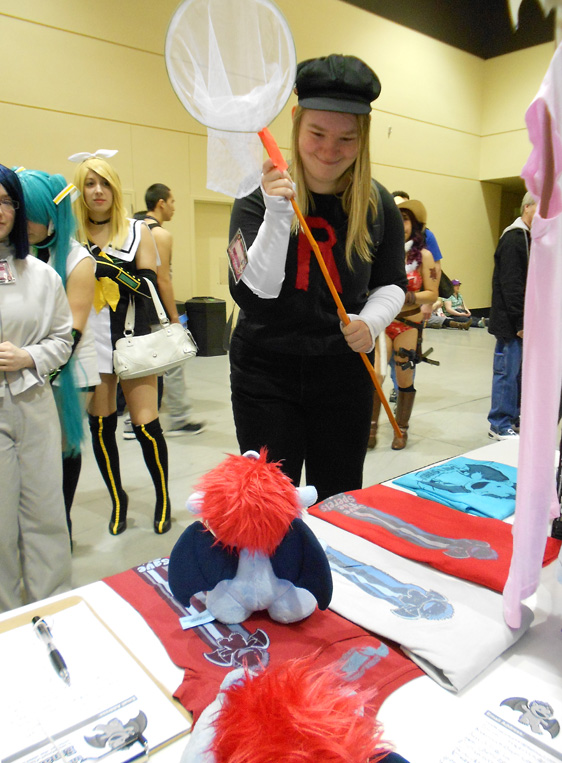 'Gotta catch 'em all' is a difficult slogan to resist when in the presence of sperels, but we do hope the sperel that she caught isn't utilized to capture more peaceful and unsuspecting creatures!
For just about everyone at the convention, the sperels offered something new and unfamiliar to learn about, and, fittingly, many of the characters whom we met were from stories that we knew nothing about either.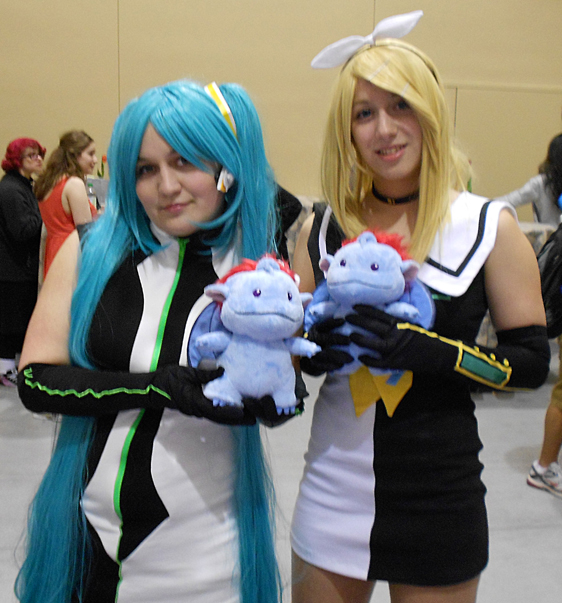 These girls stopped by all three days, each day cosplaying as a different character! It was their Hatsune Miku and Kagamine Rin costumes which they wore on the final day that introduced us to an entirely new world, and while we still don't entirely understand the story behind their characters, we're sure that the sperels they adopted will enjoy whatever random fun lies ahead!
Also unfamiliar were these colorful subjects from the Kingless Kingdom Hearts. Time for some destructive disloyalty? Careful little sperel, those two look like trouble!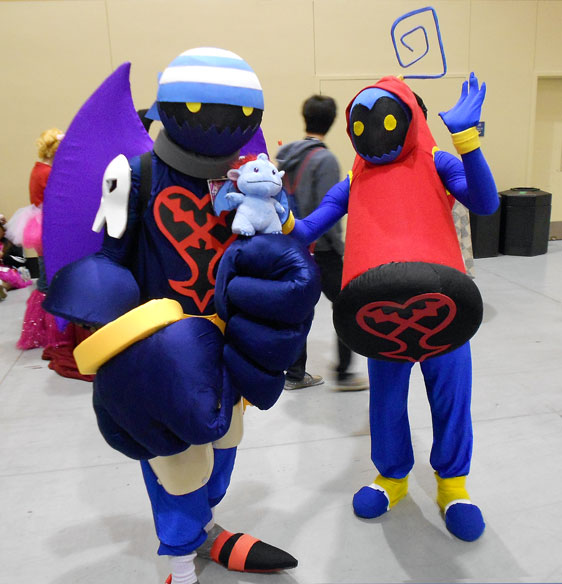 When this guy stopped by on Friday, he had a very cool helmet that he had created as the finishing touch for a costume based on a character of his own design. When he stopped by the next day to adopt a sperel, he was sans helmet – which was probably for the best as his sperel was now able to see the trustworthy and peaceful demeanor of its new friend.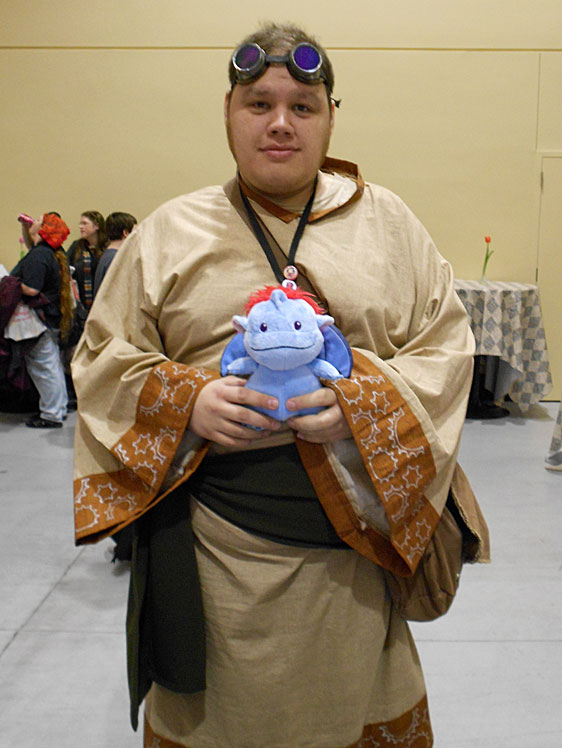 These two were full of energy, and the sperel was really attracted to their vibrantly colored ears and springy hair.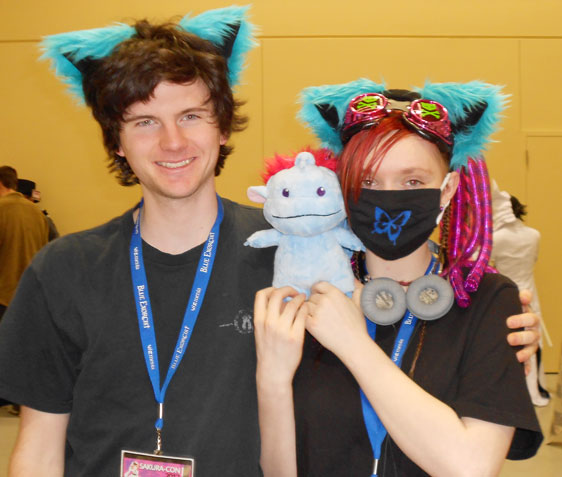 A visit from the Animaniacs kept us on our toes as they taught the sperels the best way to behave at any anime fest. And the best way to behave is? CRAZY, of course!!! Don't worry – the mallet head was made out of foam. No sperels were hurt during the course of the event.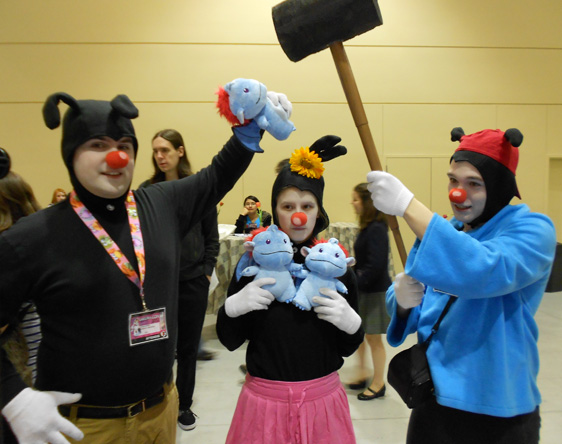 The sperels were also very impressed to learn that some creatures could fly despite not having any wings. The Nyan Cat flew by, ready to break the monotony of its meme by adding a new flying partner into its video. Hopefully the sperel is able to tolerate that never-ending nyan song!

Another flying friend, Neo dropped in to save the sperel from being inserted into a whole different kind of enslavement in the Matrix.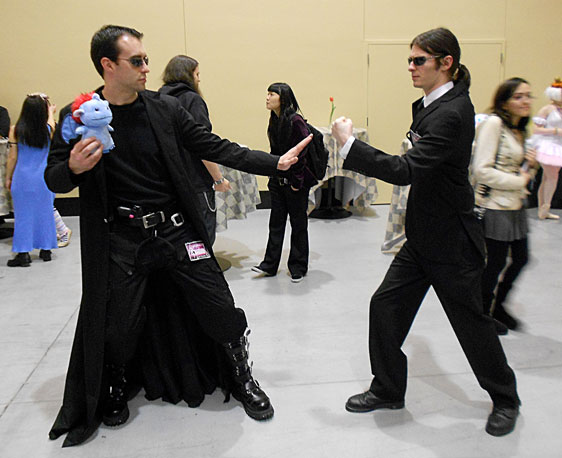 These two students of Witchcraft & Wizardry found a perfect pair of animal companions to take with them next year to Hogwarts…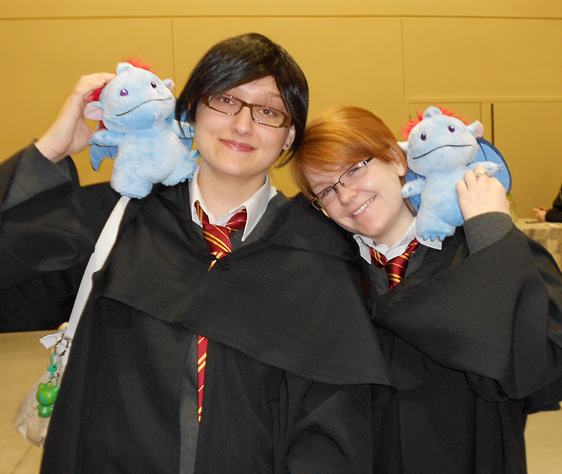 …while Princess Mononoke took along a sperel for the purpose of guiding her to Joldabrun where she swore she would protect the sperels' homeland from further destruction.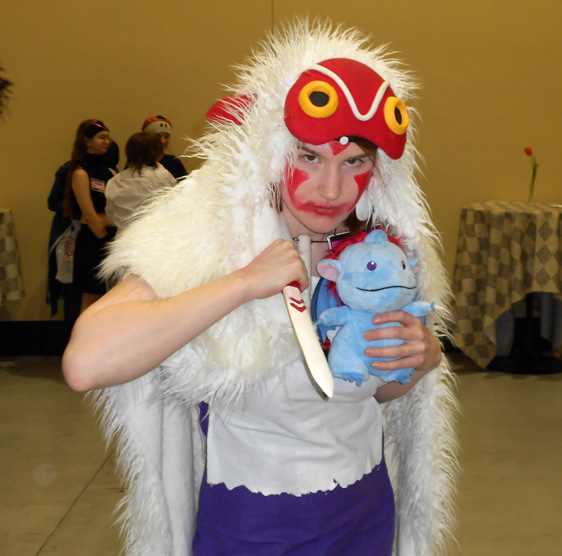 Adventure was the theme of the weekend, and this group of traveling warriors immediately recognized the sperel as the 'special item' that would aid them in their ambitious quest!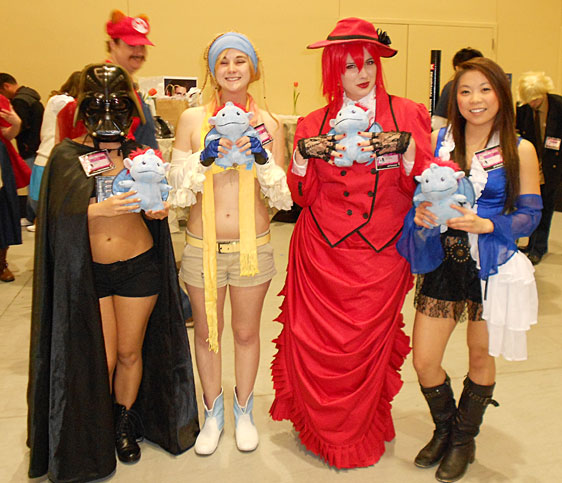 And that was a pretty full glimpse of the sperel's first exhibiting experience! Sakura-Con (and presumably other Anime Fests of its kind) really provides a perfect environment for the sperels to make new friends, and we hope to be back there again for more fun next year! Who knows what adventures will unfold between now and then, but one path we might soon fly down was encouraged by our friend Adrian whom we had a chance to meet up with before leaving Seattle on Sunday. Adrian is a professional concept artist, and he had some very worthwhile insight in the area of independent game development. Could a mobile app or downloadable game be the next step in spreading sperel awareness? Such a big step is probably a bit farther in the future, but if you or anyone you know has any game development insight or experience, the sperels would love to chat about it any time!