At the outset of June, the sperels never would have imagined that they'd be traveling to Los Angeles for Anime Expo at the end of the month. Anime Expo (or AX, for short) holds a reputation as one of the largest conventions of its kind in North America, and relative to its size and popularity, tables in the Artist Alley disappear quickly once registration opens up. Despite not even knowing about AX until seemingly too late, the sperels were blessed with an invitation to share a table with our new friend Jenn, whom we'd met just a couple weeks prior in the Artist Alley at AM².
Sharing a table did require some creative configuring to condense the sperel display, and I was pleased to discover that the sperels can actually present themselves quite well with less table space than what we thought necessary… which perhaps means that we'll be able to bring some new items to set out on our table at future conventions? Here's a shot of our Expo display with Nathan, Jenn's fiancé, giving his approval.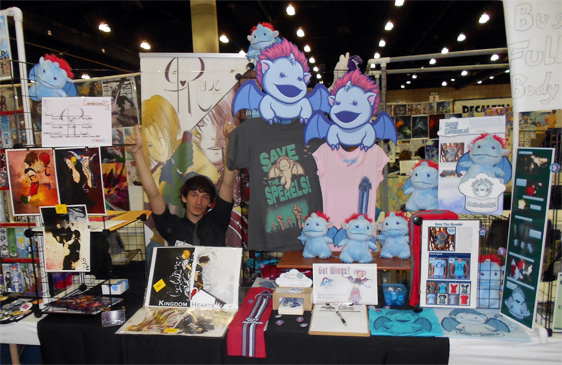 With our table arranged to satisfaction, I decided to run out and grab some food from my truck to snack on throughout the day… only to turn right back around when I saw all the Day One attendees waiting for the exhibit hall to open!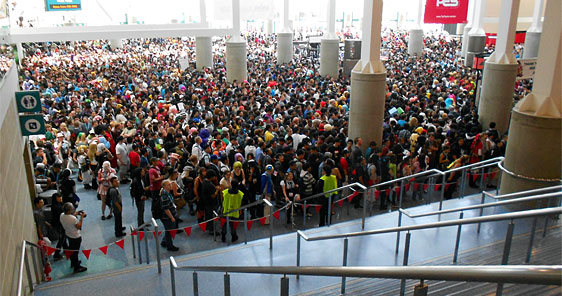 What a humongous crowd!!! All weekend long, Friday and Monday included, the isle in front of our table was teaming with a steady stream of people. The sperels, of course, had a blast!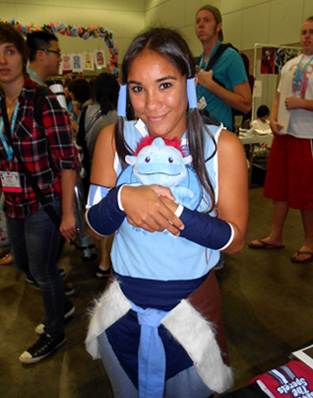 As busy as we were, I didn't take many pictures of all our newest friends, but when my table mate pointed out that this Korra cosplayer matched the sperels in color, I was at least quick enough with a 'click' to document the observation: the sperels and Korra are color coordinated! What's that you say, the sperels and Korra are color coordinated?!?
Yeah, there's a tongue twister for ya! Go on, try it – try saying it three times fast!
Following my duties in the exhibit hall each day, I did find the chance to snap just a few more cosplay photos which the sperels have posted to their tumblr blog. (Beware the ninja!)
We also had time before the exhibit hall opened on the last two days to visit some of our Artist Alley friends and see what was new with them.


Courtney and John of Decalzilla have participated in the Artist Alley at all (three) of the anime conventions where the sperels have been so far. I wish we could say that we'll be seeing them again when they go to San Japan in August, but the sperels aren't quite ready to fly out to Texas just yet. Certainly though, so long as the Decalzilla sticker catalogue doesn't grow so extensive as to obscure the smiling creators behind their work, we know we'll be seeing them again!


We first met Oborocharms' Octofruit plushies at AM², but the owl (being the rarer of the two, possibly due to that pesky Meowth lurking there in the background) was nowhere to be seen. The sperel was ecstatic to see a lone little owl with the Octofruits this time, and was even more excited to learn that there just might be more little owlets on the way! Kim (the creator behind all the cuteness at Oborocharms) has launched a Kickstarter campaign for her owls, and with just a couple days left, it is insanely close to reaching its goal. If you love things with wings as much as the sperels do, and you can give Kim's project an extra push towards success… Save The Owls!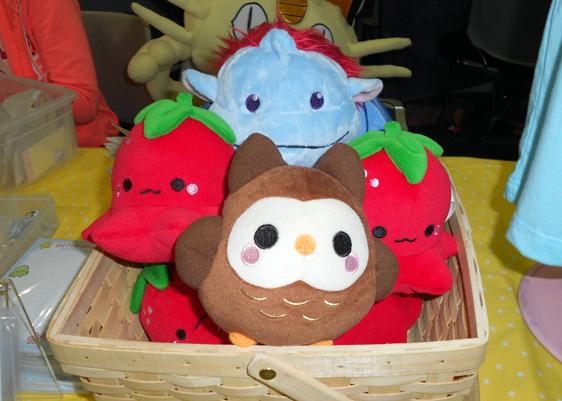 A couple rows away, we caught sight of the Sorbet Jungle table, where upon visiting we found another plush surprise in the form of Deanne's soon-to-be-released stegarawrus. When we met Deanne last April, she excitedly showed the sperels some in progress shots of her plush dinosaur endeavor, so it was great to see one of them sitting there looking ferociously cute at AX. These two together, the sperel and the stegorawrus, sure look like they're ready to cause some kind of mischief, don't they?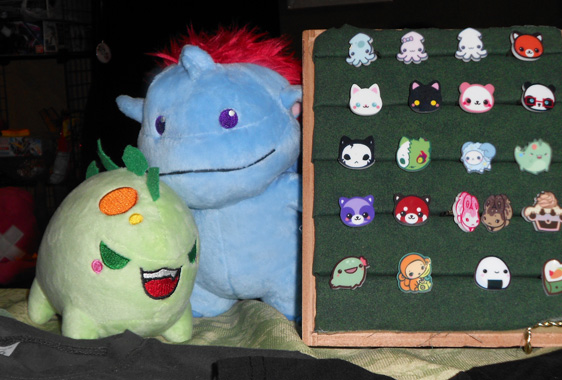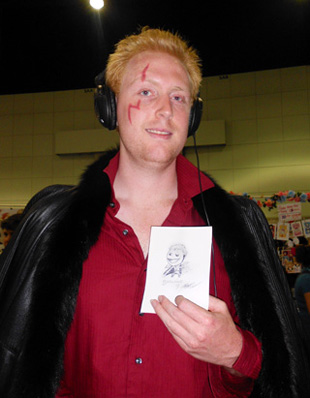 Lots of people tell the sperels how cute and adorable they are, and even pick them up to give them hugs, but one of the coolest 'compliments' they received at AX was when Jenn's friend Jared re-visited our table to present us with his piece of sperel-inspired fan art. Jared's sketch features his cosplay character Laxus Dreyar (from the anime Fairy Tail) crossed with a sperel to make 'Sperelaxus', a new type of sperel who specializes in various forms of lightning magic! We'll be sure to show a closeup of the sketch soon, either on facebook or tumblr, or perhaps in a blog post here alongside some other sperel fan art and photos that we've seen around the net.
Speaking of fan art, the video game and anime inspired artwork of our table partner brought a special guest to her side of the table on Saturday….
Here's Jenn with Bryce Papenbrook, the voice actor of Zidane Tribal (the protagonist of Final Fantasy IX). With Final Fantasy being one of her favorite games, and Zidane being one of her favorite characters, we're pretty sure this was one of the highlights of Jenn's weekend!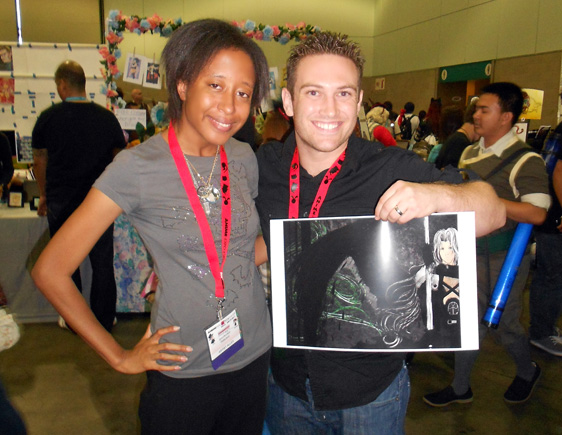 And that's the type of environment that AX provides – so many wonderful connections, just waiting to be made. We look forward to seeing everyone again and meeting even more new friends in L.A. next summer!