At the time of our last update, we had a very big weekend ahead of us with Sakura-Con in the near distance, unlocking its gates but for the briefest of moments like some secret garden of the equinox, visible and accessible only at the right time, and only to a certain type of traveler. Given our lack of convention exhibiting experience, the sperels were understandably nervous, unsure whether they would find acceptance in an environment so full of visual stimulation, but all in all our first Artist Alley experience couldn't have gone better. For three (and a half) days, the convention's exhibitor hall was in essence our home, and the enjoyment experienced therein was partially due to having some really great Artist Alley neighbors.
We've got some rather fun photos of the sperels interacting with some of the folks who visited our table throughout the weekend, but before sharing those images and stories we'd like to introduce our neighboring Artist Alley friends who were there with us all weekend long.
MilkInk, the artistic duo of 'Pokémon Specialists' Miguel and Jordan, demonstrated the legitimacy of their title with stickers, art prints, and on-site commissions that attracted endless attention from Poké enthusiasts throughout the weekend.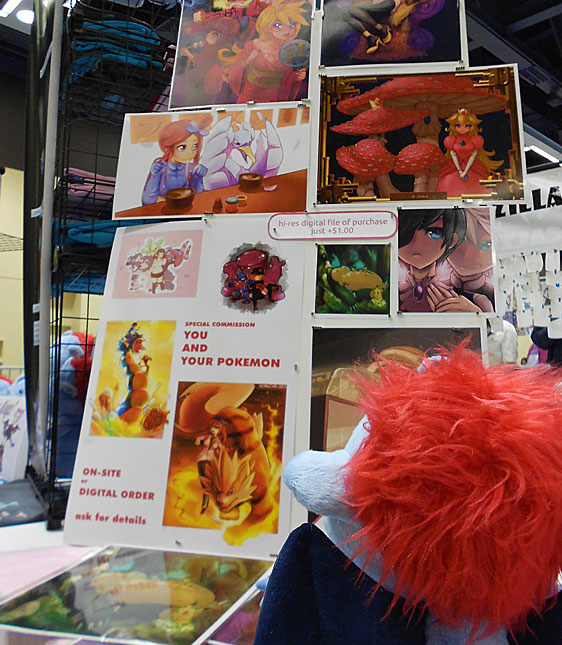 While their fan art gives tribute to other properties as well, MilkInk also creates their own characters, and their artistic style is so well polished that they ended up making several impressive business contacts during the weekend! Here, one of the sperels admires their work while contemplating a sperel+Pokémon commission.
Sharing the table with MilkInk was artist Bunny Lee, whose side of the table was populated with all sorts of cute little creatures on buttons, stickers, tote bags, t-shirts, prints, and greeting cards.


This sperel was particularly attracted to the diversity of characters on miss Bunny's greeting cards, and would love to see them all in plush form some day as they would undoubtedly make excellent play friends!
One of the very first friends we made at Sakura-Con was Josh, who runs superOrange and was busy setting up at the time of our arrival in the next row behind us with his apparel, buttons, and tote bags featuring parody slogans inspired by anime, geek, and tech culture.  In the photo below, it must appear as though the sperel is using its wing to censor the slogan on this t-shirt, but rest assured that all of superOrange's products are G-rated, with this particular t-shirt referencing a central conflict of the protagonists in the popular anime Soul Eater.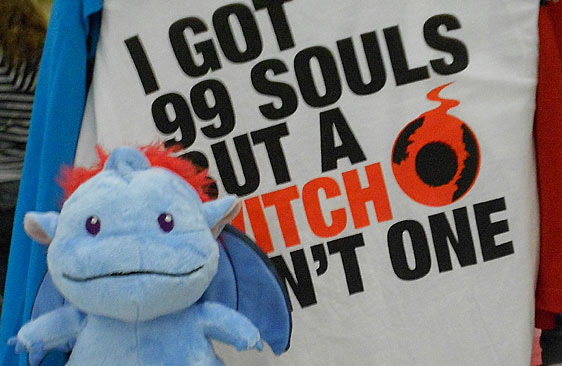 The funny(er) thing about this photo is that I specifically told the sperel to move a bit to the left when its wing was initially only covering the 'A' of 'Ain't', but apparently I was in too much of a rush to realize the error in its re-positioning. Admittedly, the sperels didn't 'get' all of the references on superOrange's products, but it would seem that just about everyone else at Sakura-Con did!  Being in the last row of Artist Alley, the sperels generally received visitors after the preceding rows, and it was always comforting to them when a new fan would adopt a sperel and then place it inside one of the superOrange tote bags that they had bought just a moment before!
Our neighbors to the right – Becky and Brenna of xskyskipper – had a variety of product at their table, but what really caught the sperels' eyes were these extremely cute little steampunk hats!


They had numerous designs – all uniquely different – and each of the sperels wanted a hat of their own.  It was difficult explaining to them that I would have to significantly increase their adoption price if they were to all come with their own unique steampunk hats.  In the end, they settled on enjoying the opportunity to at least try the hats on.  Of course the hats are designed for human wear, but as it happens that they fit the sperels perfectly, anyone who would like to accessorize their sperel with such an item is encouraged to get in touch with xskyskipper!
Blurry images and partially obscured subject matter really truly are not a common occurrence in Mr. Sperelman's photography, but here we see yet another flawed photo effort, this time as the sperel wears a painted mask and phone wrist charm from Sorbet Jungle.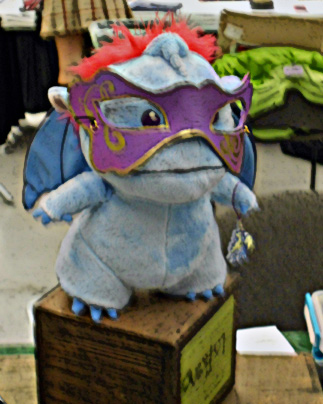 With so many cosplayers roaming about the convention floor, one of the sperels was inspired to find a disguise of its own and was smart to fly a couple tables down and enlist the help of Sorbet Jungle's Deanne and Christi. Of all our new Artist Alley friends, these two ladies were the veterans of our row! This year alone, they've already traveled to and exhibited at five different anime conventions, and they're planning for many more before the year is through! The sperels are jealous to say the least! Check their tour calendar and be sure to visit Sorbet Jungle if you're at one of these same events!
Perhaps it's best that this photo came out blurry so as not to provide any clear clues to The Masked Sperel's identity, but still we would like to make sure that our introduction of Sorbet Jungle faithfully represents the cuteness of their brand. In addition to the mask seen on the sperel above, they also sell an array of adorable jewelry, cell phone charms and covers, scarves, hats… and… what's this?
It appears that one of Sorbet Jungle's Onigiri Plush was so intrigued by the sperels that it snuck into our display packaging to travel home with us!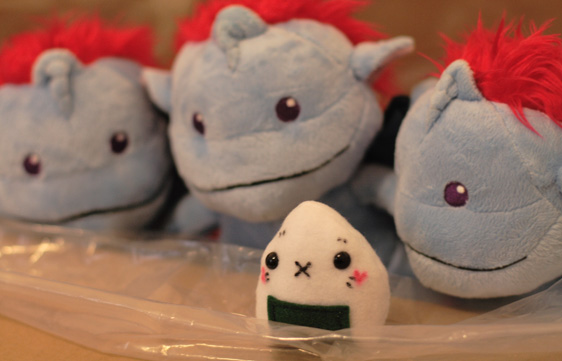 The sperels are equally intrigued by their new onigiri friend, and despite learning that the onigiri would be deliciously edible if ever they hungered for such a cute little ball of rice, the sperels sympathize with its past hardships and have taken to watching over the onigiri to ensure it remains safe from harm.
As for all of our non-onigiri Artist Alley friends, the sperels wish you well in your growth and hope to see each of you again at more conventions in the future!